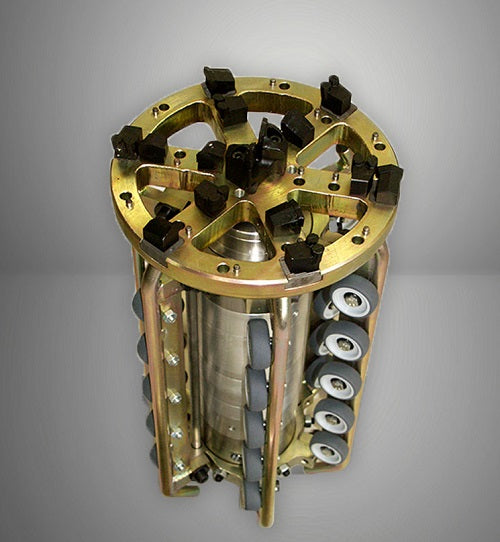 The WaMax 200 Milling Nozzle System by IBG Hydro-Tech is a milling style nozzle used for major blockages involving roots, concrete, asphalt, and significant mineral deposits, as well as protrusions, in lines between 8" to 24" (150MM to 600MM) in diameter.  The milling system utilizes a turbine-style drive with an internal gear reduction system to generate maximum torque to the milling head.  The internal gearing also allows the system to be used with much lower GPM jetting machines when compared to other milling systems.  
The Sewershop's WaMax possesses the capability of a hammer drill that aids in pulverizing material at the blockage.  This, in turn, aids in the removal of materials down the sewer line.  Can also be used for pipe preparation prior to pipelining.
The kit comes complete with the turbine drive motor, skids, extensions, 8", 10" and 12" milling heads, and cutting teeth.  Be sure to select your hose length at the time of order placement to ensure maximum performance from the nozzle. 
Additional milling head and extension sizes and skids are available  (sold separately).  If you have a special circumstance that which you would like to discuss options, call us at 800-323-1604 for solutions and special price quotes. 
Watch the WaMax nozzle cut through a cement block in a line to show its grinding capabilities against the toughest of sewer blockages.