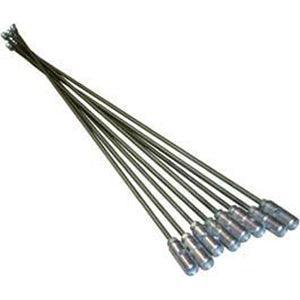 Mean Green Sectional Sewer Rods
Sewershop's Mean Green Sewer Rod quality, performance, reliability and value are just a few advantages the user will receive while using this sectional rod. Our quality control program selects only those rods that will give the user that added extra torque and toughness with the ability to open a sewer line where other rods fail.  
Each rod is acid resistant and is equipped with hardened and plated nuts and couplings. Maximum torque, exceptional tensile strength and unequaled Rockwell hardness are just a few features that make our rods the leaders in their industry.
The initial cost may be more than our Super Premium Sectional Sewer Rods, but the superior performance over all other rods on the market will be seen immediately when Mean Green Sewer Rods are put to work.
Sizes available:  5/16" or 3/8" in diameter (rod) and 36", 39" and 48" in length