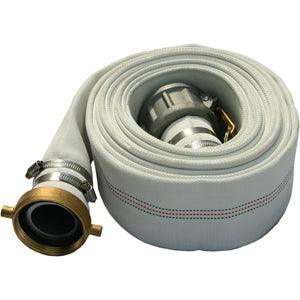 The fire hose type Fill Hose is available in 25 and 50 foot lengths with a polyester design. One end has a camlock fitting to attach to the jetter's fill pipe.  The opposite end is set to attach to a fire hydrant fitting.  
An adapter can be added to attach a garden hose for fill from a city or well source of water.  
Keep in mind that a leaky fill hose should be replaced immediately.