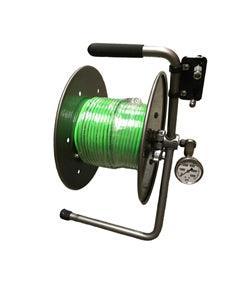 The Mini Drain Kit is a must have for plumbers and jetting professionals when it comes to cleaning small lines in residential, commercial or industrial settings. The small diameter hose and nozzle size allows super flexibility in handling these small lines, even with multiple bends and transitions.  Just hook up to a jetter's hose and go.  
The kit comes complete with the portable hose reel, 0-5000 psi pressure gauge, jetting hose, swivel joint, adapter to connect to 1/2" sewer hose and two nozzles. It is lightweight for carrying to drain or clean out locations.  
Choose the size of hose you need for your jetting needs.