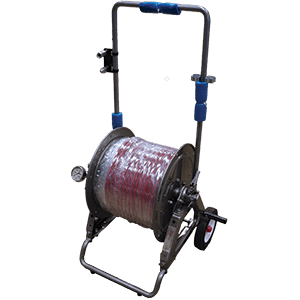 Lateral Line Cleaning Kit
The Lateral Line Cleaning Kit is designed to work with a trailer or truck jet when cleaning smaller lines (2"-4" pipe) and lines which have difficult turns and bends.  Designed to make turns and bends in smaller lines where 3/4" and 1' hose may not work.  The cleaning kit is designed for one man operation, easy to maneuver.
Each kit is equipped with the hose reel assembly (jet hose, reel swivel and hose reel with hand crank handle), cart, 2 cleaning nozzles and an on/off ball valve.