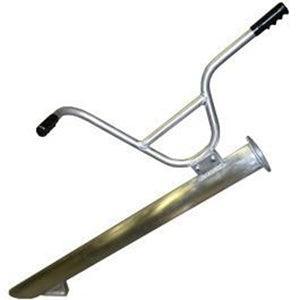 Vacuum Easy Lift Tube w/ Handle
Designed to increase productivity and decrease operator fatigue.  The dual handle design gives the operator more control over the suction end of the tube, thereby decreasing bending over and operator fatigue issues.  The small pivot point on the bottom of the tube, in addition to the "bologna cut" on the end of the tube, allows more efficient control over traditional circular openings.  Great on flat surfaces with superior control without the usual "suck-down" that can occur with other tubes.
The Vacuum Easy Lift Tube w/Handle comes in 4" and 6" inside diameters.