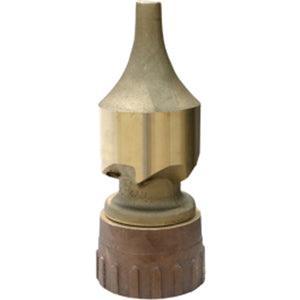 The Whirlaway Nozzle is designed to be attached to fire hydrant hose and is useful for cleaning lines up to 30" in diameter, when high volume and low pressure water will get the cleaning job done.  Typically used with fire equipment water pump units.  Only available with forward jet.
This nozzle is not designed to be attached to most sewer jetting machines with lower volume water GPMs and high line pressures.  See other Sewer Equipment's nozzle for those applications.
The Whirlaway come in two size variations.  The Whirlaway will fit either 1-1/2" NST or 2-1/2" NST thread sizes.  Be sure to select the correct size hose fittings for your application.