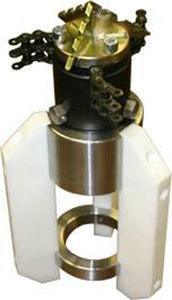 Combi Chain Cutting System
The "Combi" Chain Cutting System by IBG Hydro-Tech is a versatile cutting nozzle that can be fitted with an aggressive drive chain cutter or a less aggressive link chain cutter.  The drive chain usage is best suited for the most difficult obstructions while the link chain is best suited to work on older, more fragile sewer pipelines.  Each design is easily interchangeable and comes with various lengths of both styles of chains in the kit. 
The front piercing "pine tree" cutter aids in cutting through obstructions in the middle of the line. The system is designed to work effectively on tough roots, mineral deposits, grease blockages, or hard scale that needs to be stripped from the pipe walls.  Can be used as a pre-lining cutter.  The Cutter motor has 6 rear jets set at 15 degrees and 3 spinner side jets for driving the rotation. The nozzle utilizes ceramic, conical orifice, and replaceable inserts for maximum efficiency and easy change out.
All of Sewershop's high-efficiency nozzles utilize this ceramic jetting insert along with Flow Diversion Technology to minimize internal turbulence found on standard and competitor nozzles for superior cleaning results.  All kits come with the Combi cutter motor, skids, chains, tools, and carrying case. Replacement chains kits are also available. The Sewershop Combi Cutting System is a favorite when clearing roots and scale.  
The 1/2" nozzle has an effective working range of 4" to 8" sewer line sizes.
The 3/4" and 1" nozzles have an effective working range of 6" to 18" sewer line sizes.
Be sure to select your hose length at the time of order placement to ensure maximum performance from the nozzle.