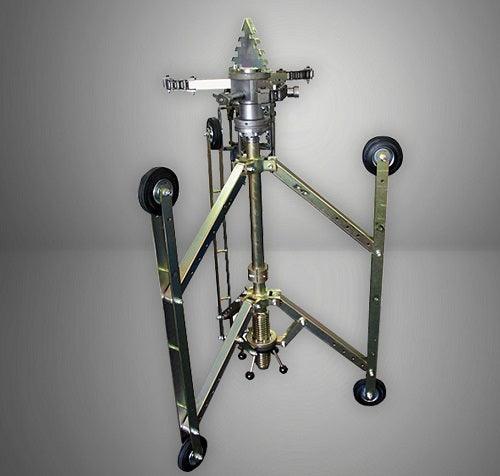 K114 Cutting Nozzle System
The K114 Cutting Nozzle System from IBG Hydro-Tech takes over where the Combi Cutter leaves off.  The K114's massive nozzle head, cutter point, and heavy duty chains with carbide "knockers" on the ends insures you can handle any root cutting and mineral deposits a line may have.  This K114 System can be great for prepping the sewer or sanitary line for pipe lining.  
This K114 nozzle/cutting head can handle lines from 20" to 40".  Its size and weight keeps it turning when other root cutters stop, if it hits a large root mass or exceptionally thick mineral buildup.  The nozzle will operate with 80 or higher GPM jetters. The nozzle/cutting head requires a skid for operations.
The K114 nozzle/cutter kit comes with the all parts seen in the picture below.  The nozzle cutter head, chains, carbide knockers, inserts, chain extensions and the Vari-Turn cage skid.  
The Sewershop K114 nozzle utilizes ceramic, conical orifice, replaceable inserts for maximum efficiency and easy change out. All of Sewer Equipment's high efficiency nozzles utilize this ceramic jetting insert along with Flow Diversion Technology to minimize internal turbulence found on standard and competitor nozzles for superior cleaning results.  Requires a large framed rolling skid for operations (sold separately).
Be sure to select your hose length at the time of order placement to insure maximum performance from the nozzle.