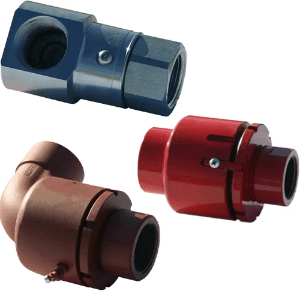 The hose reel swivels are made of heavy duty carbon steel.  The 90º rotary swivels is available for both Truck and Trailer Jet applications. The same is so for the straight rotary swivels.   
The live swivel design for the type A is stainless steel and is a sealed design.  The TM style (Type B and C below) swivel joints are greasable for longer life and are repairable with seal and bearing kits available. All the swivels are equipped with chrome ball bearings and a Teflon back up rings .  
Female pipe to female pipe connections.  Be sure to measure your hose reel and feed line fittings to select the correct size and type of swivel for our application.