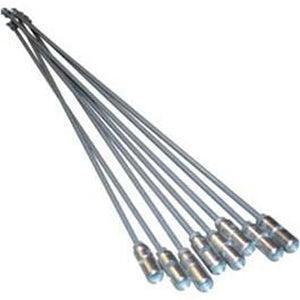 Super Premium Sectional Sewer Rods
Sewershop's Super Premium Sewer Rod quality is verified through a continuous testing procedure while being manufacturing. This can give the customer an assurance of the quality that goes into these sectional rods. 
Each rod is acid resistant and is equipped with hardened and plated nuts and couplings. Maximum torque, exceptional tensile strength and unequaled Rockwell hardness are just a few features that make our rods the leaders in their industry.
 Sizes available:  5/16" or 3/8" in diameter (rod) and 36", 39", 48", 60" and 72" in length