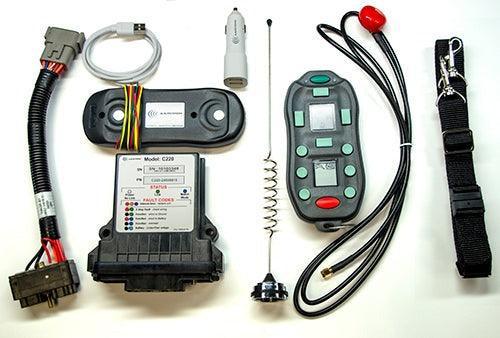 Trident Wireless Remote System
The Aarcomm Trident Remote control system provides machine operators with proven reliability and superior performance to get the job done - no matter what the conditions. 
The Aarcomm Trident Aftermarket Retrofit Kit gets you up and running with the top performing radio remote control on the market. You don't have to change existing wiring, making it easy to install in 30 minutes or less. Just remove your existing receiver and plug in the Aarcomm receiver. Just plug and play and get back to work.  (The Aarcomm Trident Aftermarket Retrofit Kit is only for replacement of a Omnex/Eaton wireless remote systems currently on a unit). 
The Trident features include longer range than competitor systems, a charging platform to recharge the handheld transmitter (no more battery replacements), a true waterproof handheld transmitter and a simple harness to adapt to your Sewer Equipment machine.  The range strength helps to get signals through even the highest level of interference and structural materials that block other remote systems (like hospitals, parking structures, steel buildings, etc)!