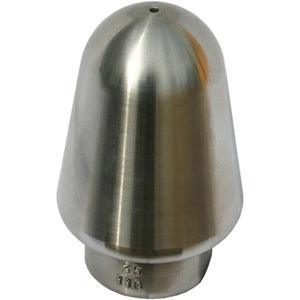 Standard Radial Sewer Jetter Nozzle
The Standard Radial Nozzle is an ideal option for the most common sewer blockages and general cleaning.  This nozzle is designed to clean lines 4" to 12" diameter sewer lines. The Standard Radial nozzle comes in two jetting angles:  The rear jets are set to jet at either a 15 degree or 35 degree angle.    
Be sure to select the proper size, jetting angle and jetting hose for your machine from the grid below.