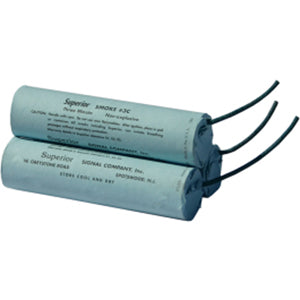 The Sewer Smoke Bomb is the most economical way to trace sewer lines. White smoke is not harmful and will leave no residue. Lighting a sewer smoke bomb allows the identification of sewer line leaks as the smoke will drift up through the ground to show where a leak is located in the line, which in turn helps make necessary repairs. Three-minute smoke bombs can be tied together for testing long sections of sewer pipe.
The Sewer Smoke Bomb comes in either a single or double wick setup.  Packaged in a dozen per box.
WARNING:  Smoke bombs are considered a class B explosive.  These cannot be shipped via air shipments.  Products can be shipped via ground shipment only!!!