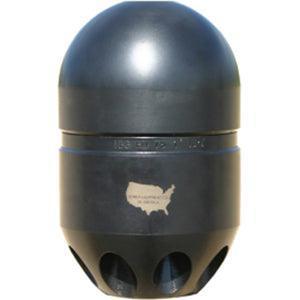 The HW Series Nozzle is designed with a low angle jetting, making the HW the ultimate flushing nozzle.  It is designed with great thrust, pull and flushing ability to bring back debris on long pulls and up inclines. The HW nozzle has 10 total jets with 5 set at 6 degrees and 5 set at 12 degrees.  The nozzle utilizes ceramic, conical orifice, replaceable inserts for maximum efficiency and easy change out.
All of Sewer Equipment's high efficiency nozzles utilize this ceramic jetting insert along with Flow Diversion Technology to minimize internal turbulence found on standard and competitor nozzles for superior cleaning results.  The nozzle has different effective working ranges depending on the model and size options. 
The 1/2" HW-53 has a working range of 4" to 8" sewer line sizes.
The 3/4" HW-75 has a working range of  6" to 12" sewer lines sizes, and 6 to 15" sewer line sizes for 1" HW-75 option.
The 1" HW-100 has a working range of 12" to 24" sewer line sizes.