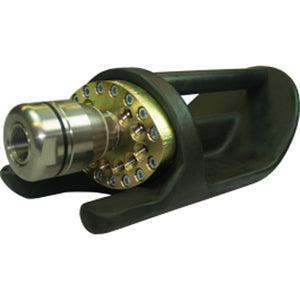 Mega 6 Culvert Cleaning Jetter Nozzle
The Mega 6 Nozzle produces extreme flushing capabilities for large duty lines . This makes the Mega 6 a favorite not only for flushing large sanitary lines, but for cleaning medium and large storm drains and culverts. The anti-tip heavy weighted design allows the Mega 6 to run on the bottom of the line allowing the Mega 6 to be a virtual water shovel to flush back all debris.  It will handle rocks, cement chunks, bricks, heavy sediment or most blockage material you can throw at it!  This nozzle has 11 rear jets are angled from 0 degrees out to 30 degrees for maximum thrust and flushing power.  The nozzle utilizes ceramic, conical orifice, replaceable inserts for maximum efficiency and easy change out.
All of Sewershop's high efficiency nozzles utilize this ceramic jetting insert along with Flow Diversion Technology to minimize internal turbulence found on standard and competitor nozzles for superior cleaning results.
The nozzle has an effective working range of 15" to 120" sewer, sanitary or culvert line sizes.  Be sure to select your hose length at the time of order placement to insure maximum performance from the nozzle.