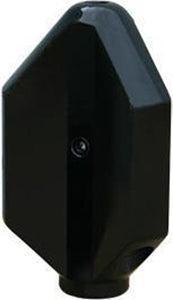 Mini Missile Sewer Jetter Nozzle
The Mini Missile Nozzle is made of one solid piece construction.  The nozzle's aerodynamic design combined with the 3 rear jets set at a 5 degree angle creates optimum thrust. These large volume orifices also produce a massive water output resulting in powerful flushing capabilities.  
Very effective when used in lines with limestone, soap or grease buildup, as well as general pipe cleaning applications.   All jets use a replaceable orifice.  
Be sure when ordering to select either a forward jetted nozzle or no forward jet style.