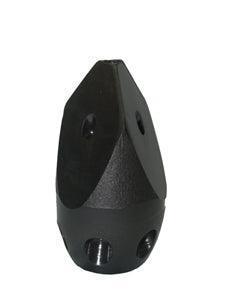 Tri-Star Sewer Jetter Nozzle
The Tri-Star Nozzle from IBG Hydro-Tech is constructed of heavy duty forged steel, making this nozzle the best blockage penetrator on the market.  The wedge shape and sharp angles allow the face of this nozzle to break through ice, grease or calcium blockages, restoring the flow through the sewer line.  Six rear jets allow for very powerful thrust to hit blockages head on.  Four forward jets (1-0 degree and 3-20 degree jet angles) help with the penetration process for blockage elimination. 
All of Sewershop's high efficiency nozzles utilize the ceramic jetting insert along with Flow Diversion Technology to minimize internal turbulence found on standard and competitor nozzles for superior cleaning results. Get more out of your water!
The 1/2" nozzle has an effective working range of 3" to 8" sewer line sizes
The 3/4" nozzle has an effective range of 4" to 15" sewer line sizes
The 1" nozzle has an effective range of 6" to 24" sewer line sizes.  
Be sure to select your hose length for maximum performance from your nozzle.