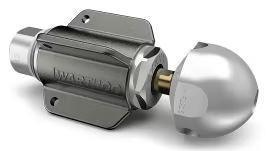 Warthog WH Classic 1/2" Sewer Jetter Nozzle
The Warthog WH  Classic nozzle by Stoneage is best suited for larger lines and higher GPM flows. The WH utilizes a slow, controlled rotation to maximize the dwell time of the water to penetrate deeper through deposits and to get a better clean of sewer lines.  The nozzle is best suited for sewer lines from 6" to 12" in diameter.
The WH nozzle is fitted with StoneAge's replaceable AP2 nozzle tips sized to maximize pump efficiency and effectiveness. The nozzle jet tips are made of hardened stainless steel to resist cracking and scratching.  These tips are replaceable for extending the usable life of the nozzle.
This StoneAge nozzle comes with its own centralizer skid.