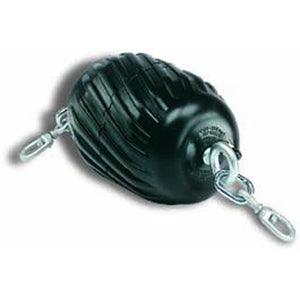 The Cherne Jet-Ball plug allows for plugging sewer lines for maintenance or repair.  The Jet-Ball plug has eye bolts and tether chains on both ends to pull the plug to the desired location in the line. This feature can be used with rodding or bucket machine equipment.
The Jet-Ball, with its external ribbed design, can be used as an inexpensive tool for cleaning new lines prior to line acceptance testing, or for use on grease and debris in existing lines.  
Be sure to select the correct size Jet-Ball for your sewer lines.