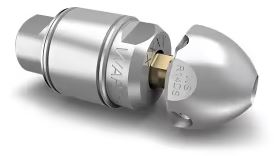 Warthog WS Pro 1/2" Jetter Nozzle
The WS Pro with whip hose is a versatile tool designed for clearing blockages, including grease, roots, ice, and soil, for 4-8" pipes. It's commonly used with trailer jetters to provide powerful cleaning in both commercial and residential applications and offers a good balance between pulling/flushing and cleaning/cutting. The standard whip hose is included to reduce wear on your main jetter hose.
Descaling ports are built into the nozzle head.  The standard version comes with these ports plugged.  The descaler version comes with the ports jetted with attack tips.  You can choose to plug or jet these ports at anytime, but it will affect the attack tips you have for rotation and propulsion.  Please contact us via the link at the top of this page and we will guide you to the correct combination of tips for your application.